There is a need for personas usage to shift from focusing on one persona at a time to Multi-Persona Design.
In the context of global design and development using personas, the traditional approach of utilizing a limited set of personas, often 10 or fewer, is a widely accepted guideline. This 'small persona' mindset assumes a need for a manageable focus, with the premise being that effective design requires catering to a small, independent set of archetypes or that designers and creators can only focus on a small group of personas at one time.
However, technology, as well as advertising, products, and content, transcends borders and integrates diverse heterogeneous segments of audiences, customers, and users. Therefore, this 'small persona' mindset is not just simplistic and limiting — it's a misstep in understanding the complex interdependencies of people's needs in a large target population.
The reality is that many products, many systems, and much content are employed by diverse sets of people simultaneously necessitating a paradigm shift to  – "multi-persona design," which embraces the simultaneous targeting of multiple personas or considering multiple personas at the same time.
The premise is that a set of personas are interconnected and not independent.
The traditional 'small persona' approach is inadequate for modern design, development, and creation. Platforms, products, content, services, and nearly anything people-focused now serve diverse populations, not monolithic groups. When designing for one persona, we inherently introduce elements tailored to that archetype. These very elements, while beneficial for one audience, customer, or user segment (ACUS), could inadvertently alienate or even cause friction for other ACUS. For instance, a feature enhancing privacy might be crucial for a persona valuing discretion, but this feature might complicate user experience for another desiring social connectivity and quick sharing options.
Scenarios like this are not anomalies – they are commonplace when your audience, customer, or user (ACU) base is a melting pot of cultures, expectations, usages, pain points, and needs.
ACUSs do not exist in separate silos. Their experiences are often shared, discussed, and compared. A platform is a shared space, and its features rarely impact one ACUS independently. Herein lies the crux of the issue with designing for personas in isolation – design decisions for one persona will nearly always impact other personas! Sometimes negatively!
Therefore, the multi-persona design approach is needed.
How does designing for multiple personas address the issue of cross-persona impacts?
By considering multi-personas simultaneously, designers can map out not just individual user journeys, JTBD, etc., but the intersections where they overlap or conflict. This approach shifts the focus from individual persona satisfaction to more holistic population satisfaction. A multi-persona design allows the designers, developers, and creators to anticipate conflicts and create solutions that consider the ripple effect of design decisions across multiple ACUSs.
Figure 1 shows a basic implementation of the multi-persona design for a set of 154 personas (an actual persona generation from a real life dataset). The columns are the design decisions, and the rows are the personas. For each design decision, personas are affected positively (+), affected negatively (–), or no effect/neutral (x). The number of '+' or '–'indicates the strength of the impact. Using such a matrix, one can quickly implement a multi-persona design approach for design, development, creation, advertising, or marketing.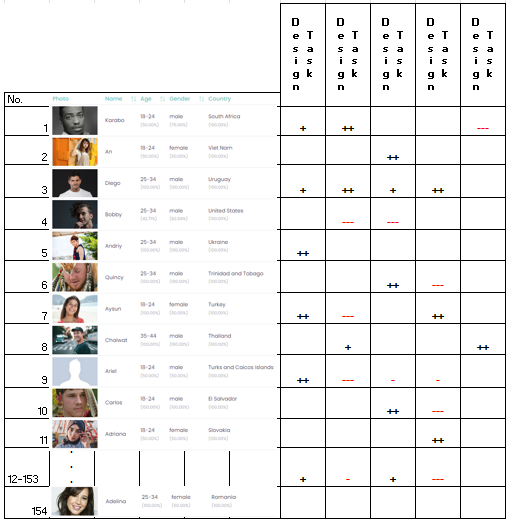 Moreover, algorithmically generated personas, such as those created by the ACUA and Surver2Persona systems, can be pivotal in this transition. With advancements in AI and ML, you are no longer confined to static, often stereotypical personas that cannot fully encapsulate ACUS diversity in large or diverse populations. AI and ML algorithms can analyze vast, nuanced data sets, highlighting subtle preferences and behaviors that human researchers might overlook. AI and ML algorithms can generate a more dynamic, comprehensive array of personas, allowing for a design strategy that's both inclusive and adaptable. Online, non-flat file dashboards can easily display these large number of personas.
Multi-persona design is not about complicating the design process with an unwieldy number of personas; it is about being strategic with the cast of personas you have created and are engaging with. Multi-persona design is about recognizing that your design choices must be inclusive, considering communal impacts rather than individual satisfaction – breadth and depth! Multi-persona design acknowledges the shared digital environment people inhabit, respecting the diverse ways people interact with platforms, services, and content and with each other.
The era of global design and development calls for a reevaluation of traditional small persona-based design practices. The interdependent nature of international ACUSs means that designing for 'one persona' at the expense of another is no longer viable.
Embracing a multi-persona design approach leveraging algorithmic insights facilitates understanding the entire target population.
Read more of our persona design research in the articles below.
​Salminen, J. O., Nielsen, L., Bahloul, M., Jørgensen, R.G., Santos, J. M., Jung, S.G., and Jansen, B. J. (2022). Persona Preparedness: A Survey Instrument for Measuring the Organizational Readiness for Deploying Personas. Information Technology and Management.
​Salminen, J., Jung, S.G., Nielsen, L., Şengün, S., and Jansen, B. J. (2022) How does varying the number of personas affect user perceptions and behavior? Challenging the 'small personas' hypothesis!. International Journal of Human-Computer Studies, 168, 102915.
Jansen, B. J., Jung, S. G., Nielsen, L., Guan, K., & Salminen, J. (2022). Strengths and Weaknesses of Three Common Approaches for the Creation of Personas: Strategies and Opportunities for Practical Employment. Pacific Asia Journal of the Association for Information Systems. 4(3), Article 1.